We use (and provide) a multitude of different SaaS products here at Ostratto to keep everything running smoothly behind the scenes and to improve the productivity of the business. Although I have a lot of weird love for all of the services we use, my favourite and one I couldn't live without is G Suite.
Yes one could say we are albeit biased but I'm not afraid to come right out and say it's by far the best all-in-one business services solution on the market right now. It's affordable, easy to use and super powerful.
Today we'll dive into the unparalleled benefits of G Suite, why we use it and recommend it to all of our partners, and how it compares to other similar solutions on the market.
​​What is G Suite?
G Suite is Google's suite of intelligent apps. This was formerly known as Google Apps, till it was re-branded in late 2016. We primarily recommend G Suite for clients that are needing email hosting for their business. However, G Suite is much more than just email. It also includes a variety of apps and features that can come in quite handy. In fact, you're probably already using or are familiar with some of them.

G Suite has three different plans you can purchase - Basic, Business and Enterprise. We utilise the Business G Suite plan at Ostratto. This starts at just £9.20/user/month. For many of you, the basic plan is probably all you'll ever need and that starts at £4.60/user/month. We have a much fuller breakdown of the individual G Suite system features on our product pages but here's a quick summary of our favourite features.
​​Gmail
According to a
Litmus study,
Gmail leads the way as the most popular email client, with a whopping 27.8% of the market share based on open rates. It's no surprise as
Gmail
has been around since 2004 and now boasts over 1.2 billion users. One of the best things about G Suite is you basically get an enhanced ad-free version of the online email client you're probably already using.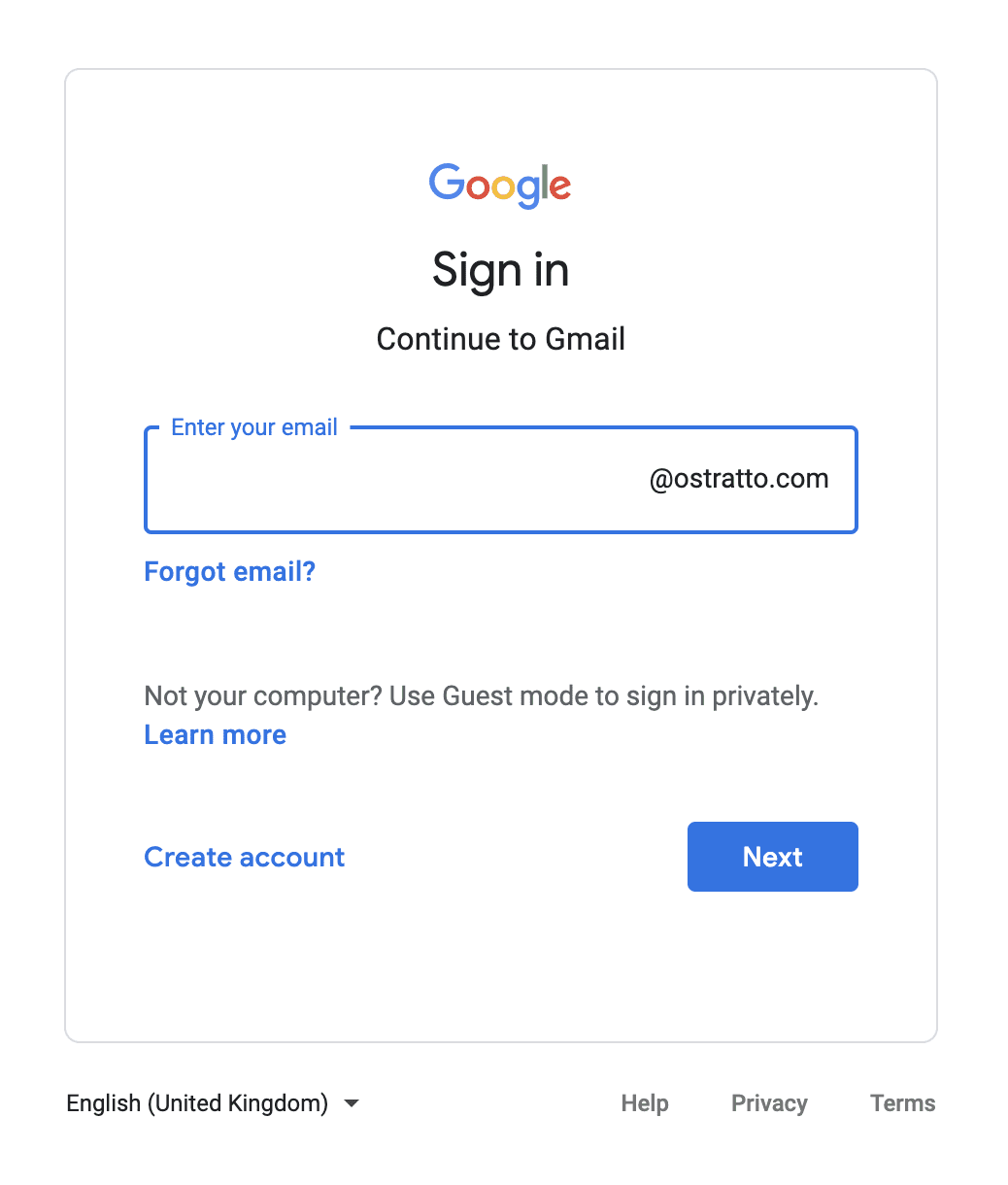 G Suite essentially allows your employees to have their own Gmail accounts with email addresses with your business domain name (example: tim@yourbusiness.co.uk). A very small business with one or two users might be able to get away with free Gmail accounts and some alias forwarding rules. But once you start hiring two or three employees, you'll find yourself needing accounts that can be managed separately. It's the difference between looking like a new small business, or established and professional - we even wrote about it a couple blog posts back.
I absolutely could not live without a calendar. Knowing when I have a client call or whether I have an important project milestone upcoming is totally essential. Google Calendar is a feature-packed calendar provided as part of G Suite and it will help you keep your schedule organised.
One of the great things about using Google Calendar in G Suite is the ability to create multiple calendars that are accessible to everyone in your business (or just a few users). For example, you might want a group calendar for events like team holidays and regular meetings. Having all your employees attached to the same business makes tasks like these even easier when compared to the free Google Calendar version.
One of the other cool features you get with Google Calendar once you go to the Business tier and upwards, is the ability to add conference calling features to an event. No messing around in separate products, you simply add video conferencing to the event and all attendees get an invite with join in details as well as a voice dial-in number if they aren't going to make the video call.
Drive allows you to
allows you to store, access and share your files in one secure place. You then have easy access to them from any device. G Suite Basic plans come with 30GB of storage for every employee. G Suite's Business and Enterprise editions provide unlimited storage so you will always have enough space for your files. We think that's pretty cool and I really have put it to the test with over 8TB and counting in a shared drive (we love movies what can I say).
If you haven't used Google Drive before, one of the best things I like about it is the amazing search functionality. I mean it does make sense - Google do know a thing or two about search technology. No more rummaging around deep in folders,
you can easily find what you're looking for, no matter how disorganised you are.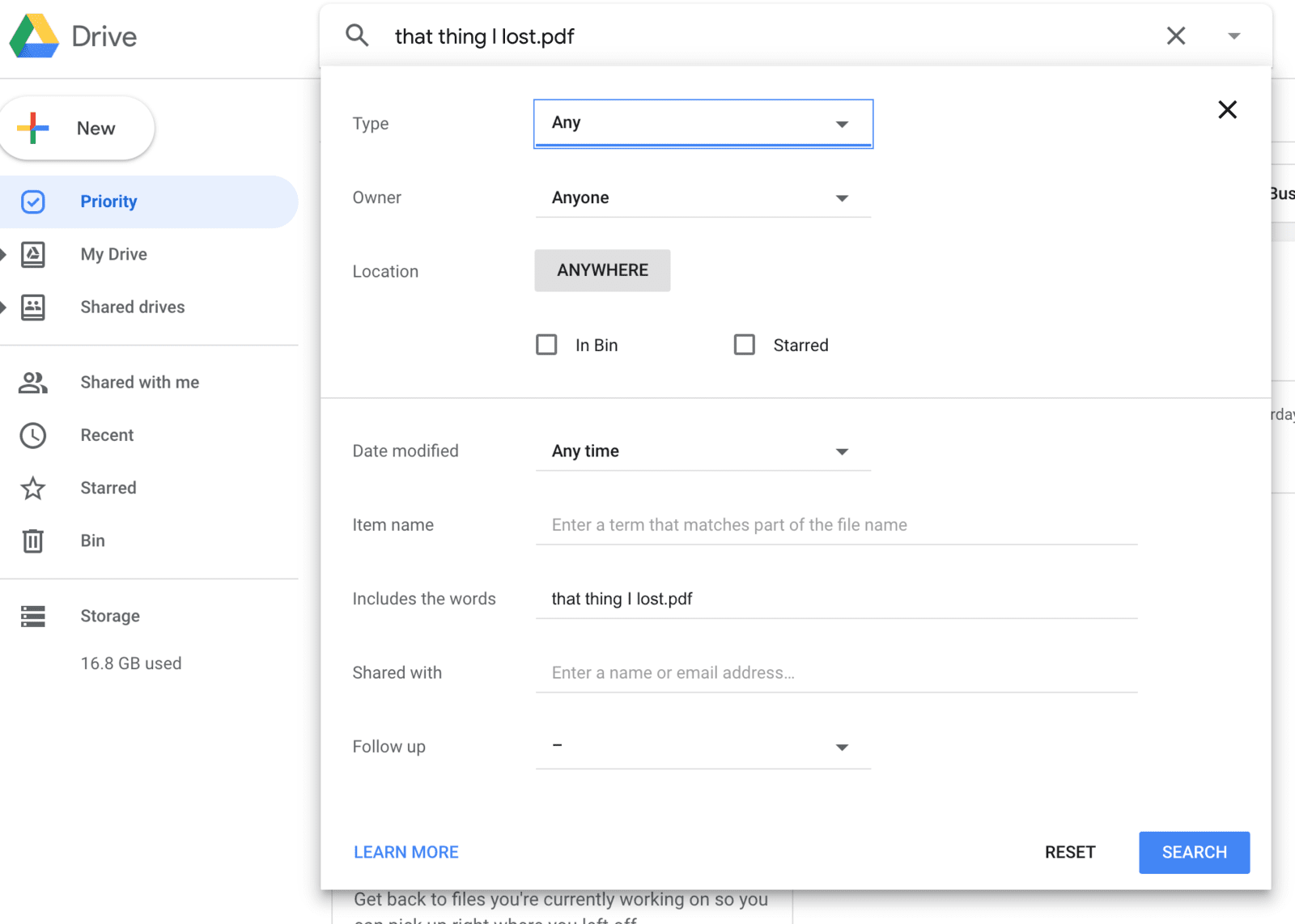 Shared Drives are also very neat. You can create shared drives for projects, departments or teams so that it's easier to find that shared information with sharing
multiple
folders with each other. It also means that the classic business situation of a user leaving the company and nobody being able to access their shared important files. You can choose certain levels of access for team members - view, edit or manager roles provide set permission levels.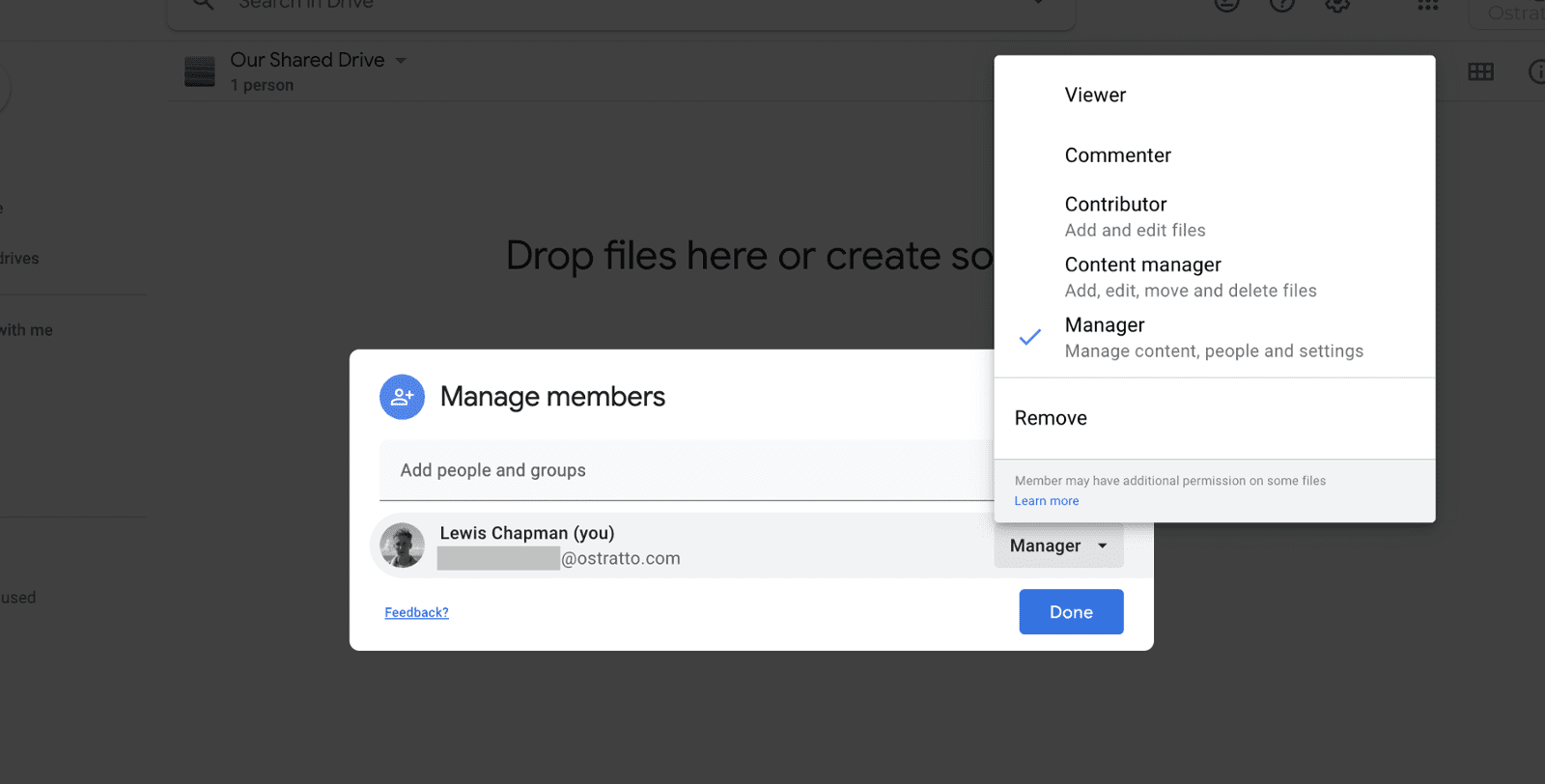 Google Docs, Sheets and Slides pretty much speak for themselves. Fully fledged document processing, a spreadsheet tool and presentation suite all reside directly in the G Suite system without any software downloads needed. Should your internet connection not be available, you can still work offline and your changes are automatically synced when you connect back to the world.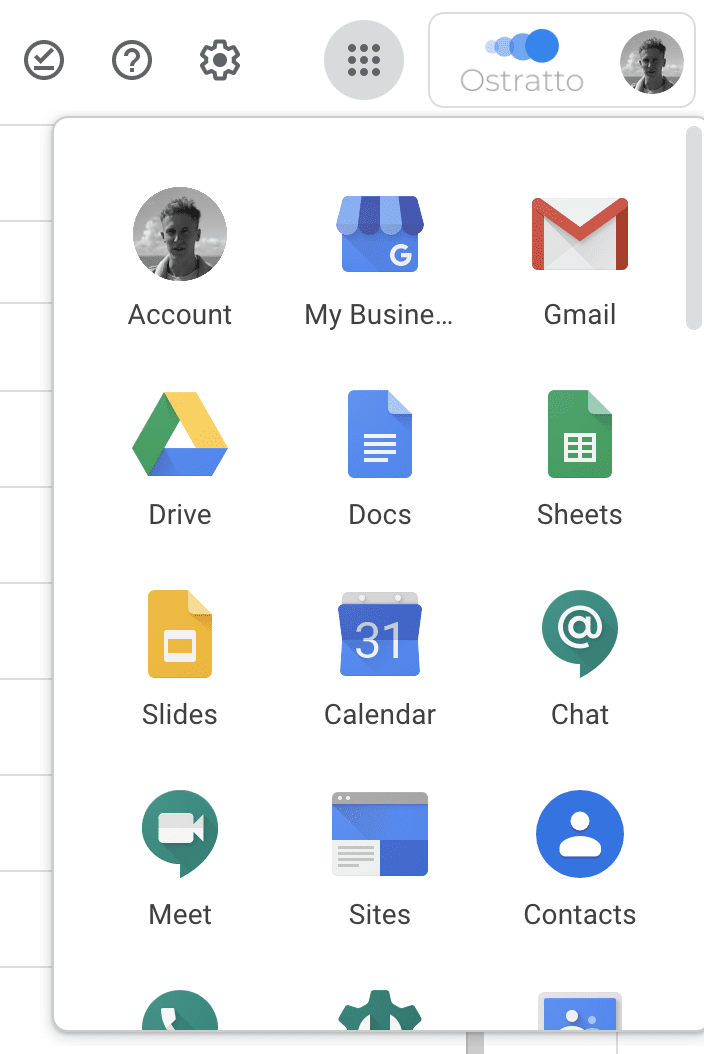 Import documents to make them instantly editable, including Microsoft Word, Excel, and PDF files (.docx, .doc, .pdf, .rtf, .txt, xlsx, .csv, .html, .ods). You can even collaborate and comment on Microsoft Office files without it having to automatically convert to Google's format - great when you are working with Microsoft Office-based customers.
You can also export to common third-party formats which makes it easy to collaborate with other individuals or companies and send files back and forth, without ever needing to install or purchase additional software.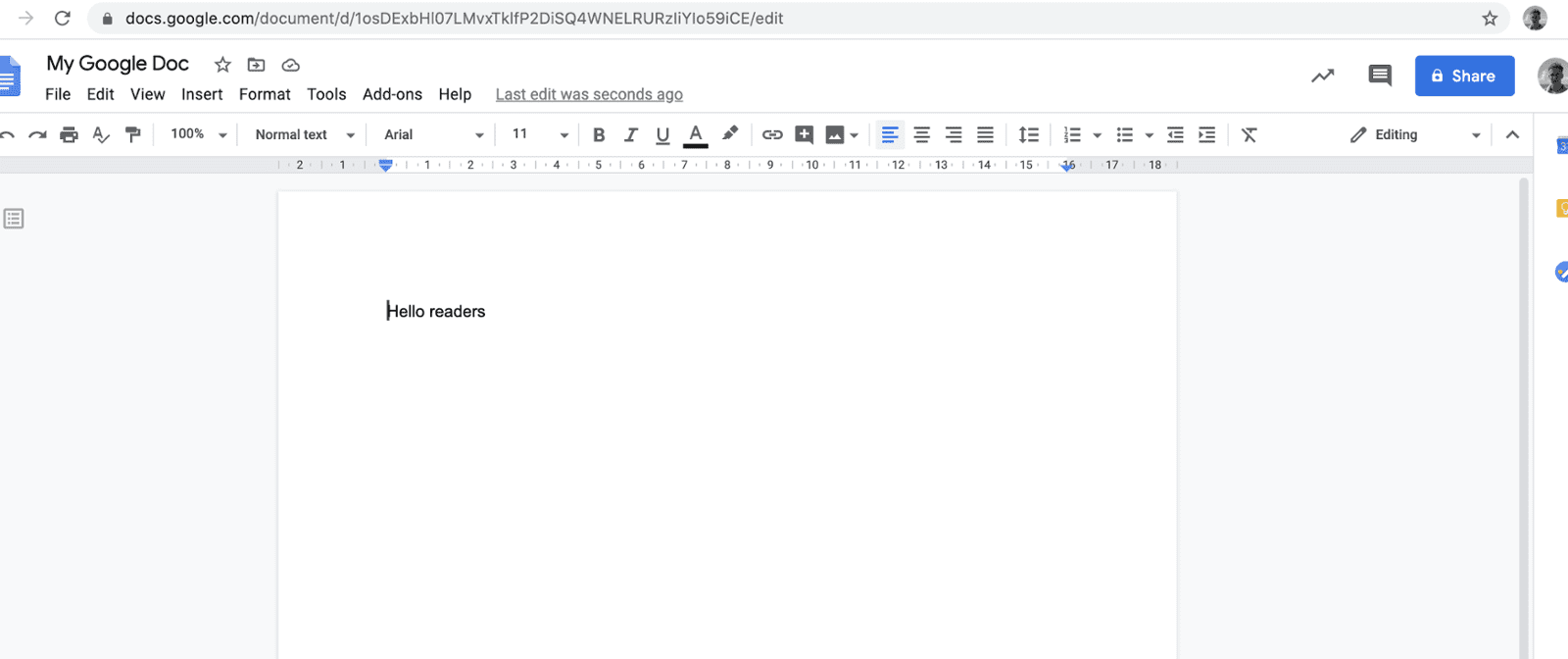 One of the best features of Google Work Suite is the real-time commenting and unlimited versions. Previous versions are kept indefinitely and they don't count toward your storage. This makes it super easy to track changes made to a document or undo a mistake. Sharing documents with your coworkers or other individuals is also incredibly easy.

What better way to meet a new client instantly than jumping on a video call. Google Meet provides an easy and secure way to handle video calling without leaving your business system. All versions of G Suite, Basic, Business and Enterprise provide the product with 100, 150 and 250 participant limits respectively - generally way more than we have ever needed.
Participants can also share screen content, or when they are using Google Chrome, a single browser tab, which is pretty neat when you need to show somebody something. The Enterprise version also allows users to record their meetings to re-watch.
Calls are crisp, reliable and secure - our key desirables in any communication product ultimately.
The Admin console for G Suite is the like mission-control. It lets
business owners easily manage everything from one single place.
Do everything from adding new users and groups, configuring business apps, manage devices, configure security settings (like 2-factor authentication) and add new custom domains for your business which can be used for Gmail.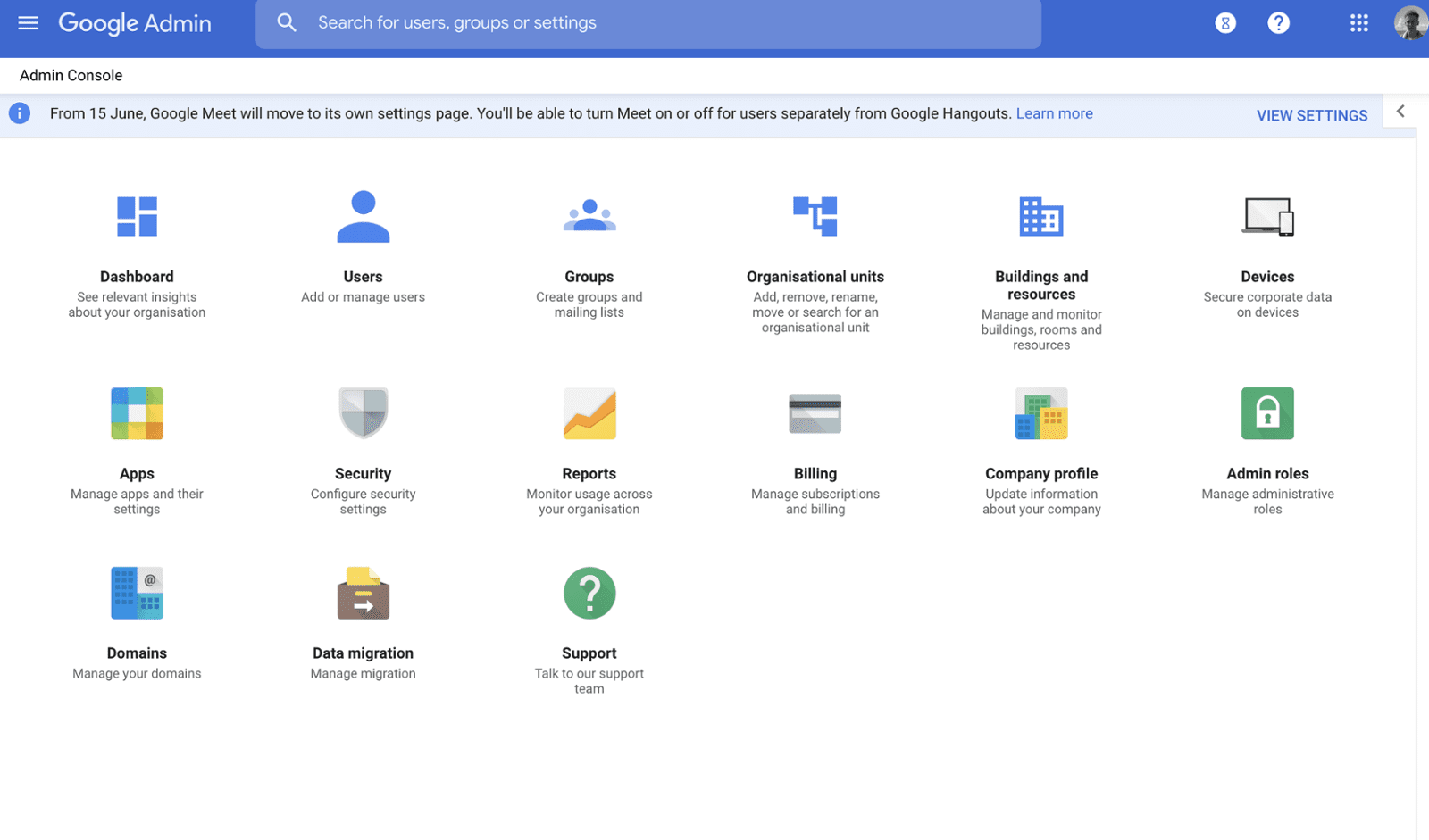 Now with the admin console being the
admin
console, only administrators can access the wealth of configuration available. Users can be provided different administrative levels via roles, so that only the relevant parts of the admin console can be access by users.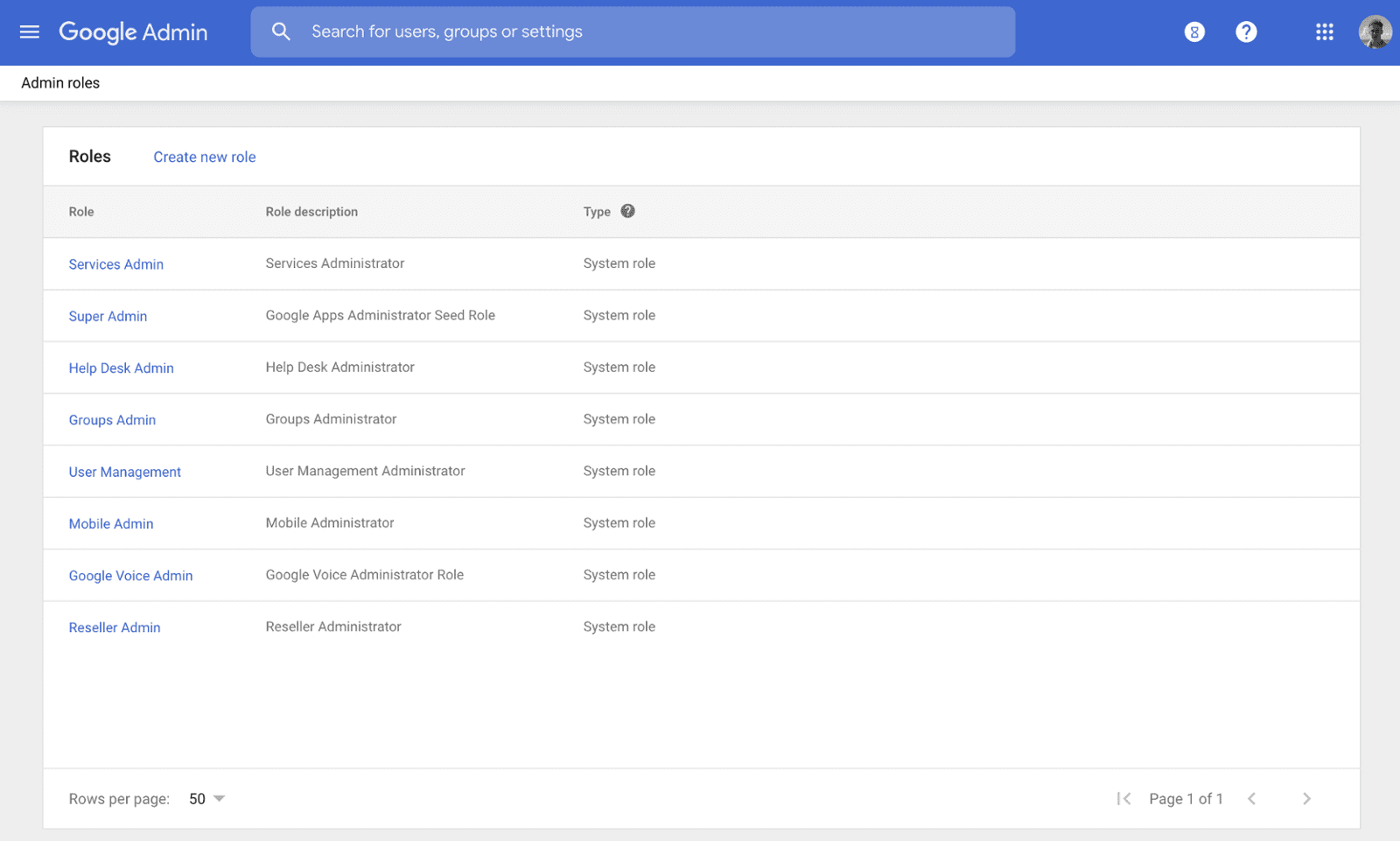 ​
​Unparalleled Benefits of G Suite

Although there are alternatives - Microsoft 365 and Zoho to name a few - there are some unparalleled benefits to G Suite which we are yet to see overcome. Here's a few.
​​Familiarity
One of the greatest benefits of going with G Suite for your business is that most of your employees are probably already used to using products like Gmail for email and Google Docs. This makes the transition much easier for your business and ensures you don't have to waste time explaining to new hires how to utilise company tools; unlike Zoho or Office 365 where there might be more explanation needed.
G Suite also has the best compatibility on mobile devices compared to any other email provider. It works pretty much everywhere which certainly saves time troubleshooting with your users.
When it comes to uptime, Google is one of the best when it comes to reliability. If you want to dig into the technical details, G Suite offers a 99.9% Service Level Agreement (SLA) for covered services, and in recent years they've actually exceeded that. Also due to the fact that email is such an important part of every business, G Suite has no scheduled downtime or maintenance windows. All of their data centres are built with redundant infrastructure.
But just like any service, they can never be up 100% of the time. Therefore, you can always bookmark the
G Suite status dashboard
or follow us on our social platforms for updates on all of their products.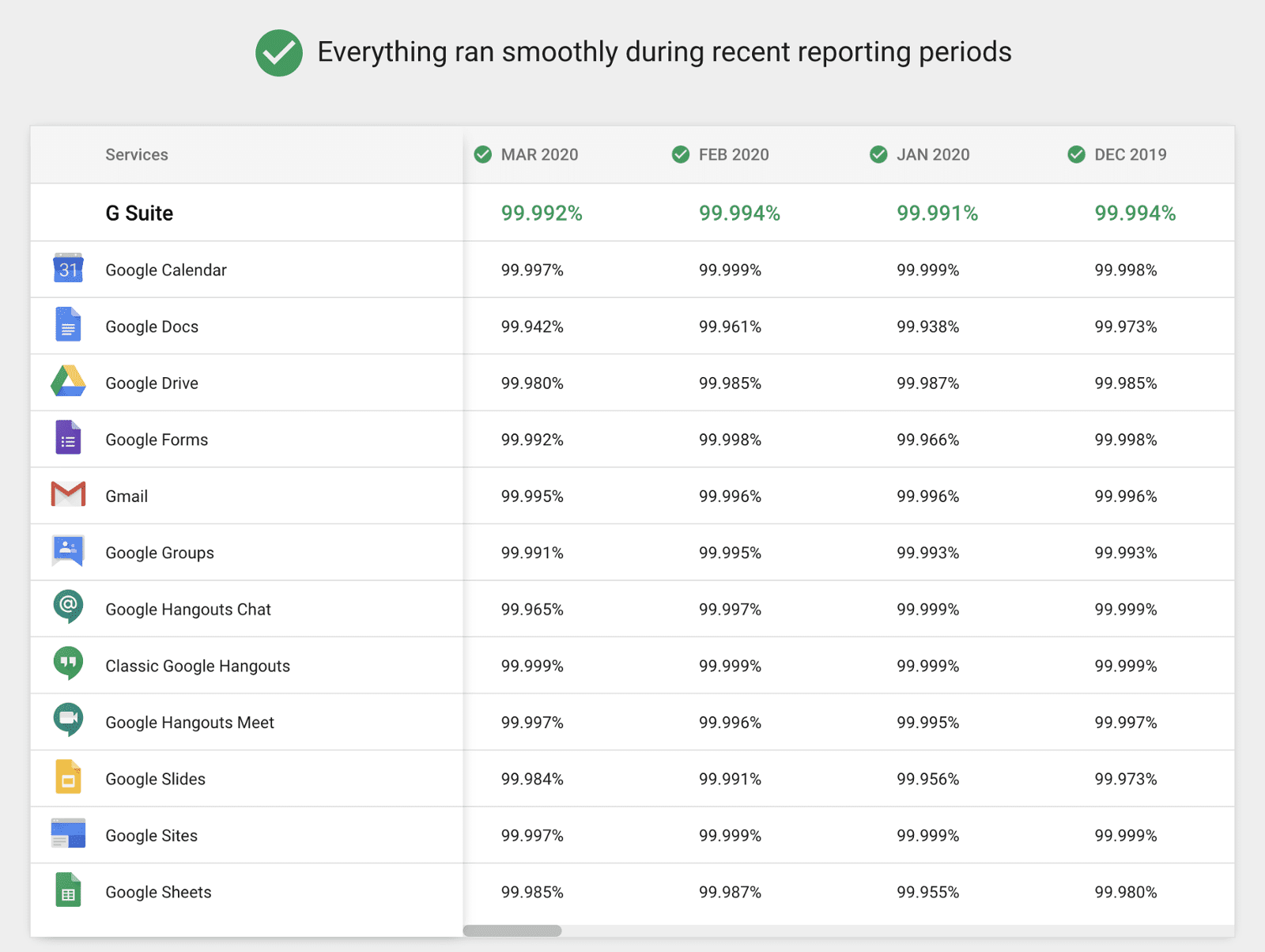 ​​
It's Extremely Affordable
There are other providers out there that are cheaper, such as Zoho, and don't get us wrong, Zoho offer a truly excellent service too. However, just as we often advise our partners - certain technical aspects of your business you should absolutely not cheap out on. Y
our business email is one of those areas.
Having an email host that you can rely on can save you money down the road.
Here's a look at G Suite's pricing and what's included in each plan - you can drill further down into this here, but here's a brief overview: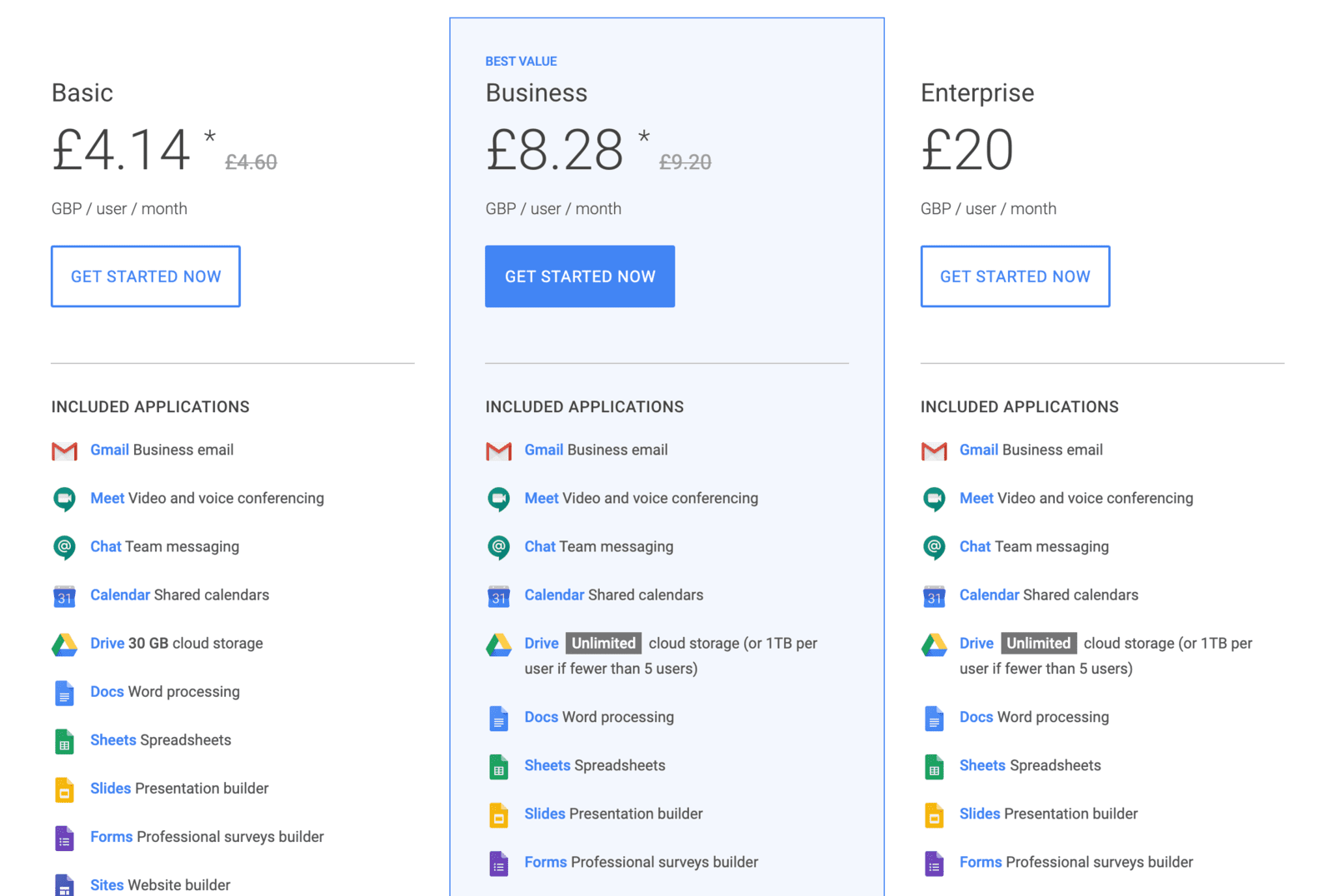 For everything that G Suite includes - this really is a steal.
​​

G Suite is secure, really secure
When it comes to security, Google really don't play around. The product is built on some of the most secure infrastructure on earth.
It's trusted by some of the biggest companies in the world; such as HP, Verizon, Whirlpool, and Salesforce. As Google says, they are leading with a "security-first mindset." They have industry-leading knowledge and expertise backing each and every one of their products, including G Suite. They have a very thorough white-paper which covers some of the measures they take which you can read here.
Some of their certifications:
​​​How to Move to G Suite
If you have read up to this point and you are keen to get started with G Suite then that's awesome - you are making a good decision. Get ready to work smarter.
We are partnered with G Suite. This means we provide setup services for our clients using our wealth of knowledge on the product. We then offer support plans after the initial commission.
There are a few options of migration depending on where you are coming from and how technically versed you are.
​​​Let Ostratto do it for you
The best way to move over to G Suite is to let us handle it for you. We have handled many migrations from various legacy systems with ease and we can help you today. Don't make the mistake of handling the migration yourself and losing years of important business data - it's simply not worth it.
For a quick quote or for more details on our migration and setup services just get in touch, I'm excited to chat with you and I'll try not to nerd out too hard.
​​Other Options
That being said, Google have provided extensive documentation on migration methods from various sources and if you are feeling technically confident then be sure to check out their guides:
In Closing
So there we are, a quick overview of why we go on about G Suite so much. Hopefully it's been of use to you and provided a half-decent run-through for you. If you have any questions about the product or if you want to get started today, just holla at us.